Team and Community News
OMGL Week 1 | Posted by: Ska on July 22, 2013, 1:27 p.m.
We'd be lying if we said that this one was going to be easy. Their first player was also their most well known, JohnnyREcco. It looked to be the beginning of the end of a bad day for fLc as he took down Cerberus. But when we're talking about OMGL and we put out pluto, things tend to seem brighter. Pluto made quick work of their heavy hitter. RuFF was next, and in true RuFF style he 2 rax bunker rushed into mass reaper, Pluto was caught off guard and fell. But Plutos spark was all Cardris needed to turn the dial to eleven leaving RuFF, TOp and finally ColdScars looking as though they could use some TvP practice time. A lot of practice. The final score was Fallacy winning 4-2 over one of our most respected and well known opponents to date.
Fallacy In OMGL Season 2 | Posted by: Ska on July 7, 2013, 2:20 p.m.
Season 2 of the Oh My God League is set to begin on the 8th of July, with fLc once again participating. For Fallacy, last season was a rollercoaster of emotion. With quite a rough beginning, stunning race for the top peaking at rank 3 of 22 teams on the second to last week, and early knock out to Property in the playoffs, we hope to have a more consistent season of domination. With a pre-season match tonight, July 7th, against Sentinel Gaming, we hope to set the pace and dominate right out of the gate. Fallacy's line up is however, much stronger than it was at the end of last season with Mahv adjusting to Terran, a slew of experienced GMs and the addition of Flatline. Wish us luck.
fLc defeats LighT in URTL playoffs | Posted by: Milotic on Dec. 12, 2012, 1:50 a.m.
After taking down many tough opponents such as Clarity and DuSt, Fallacy makes it's way into the URTL playoffs. Our first opponent in playoffs, Team LighT is indisputably one of the top SCII team in NA. Mahv takes our first two wins for us, taking out TileaLighT and Saikou Light while fLcCardris finishes LighT off by impressively taking out KawaiiLighT and BinskiLighT back to back! Wow!
fLcCardris takes out KawaiiLighT. (click to enlarge)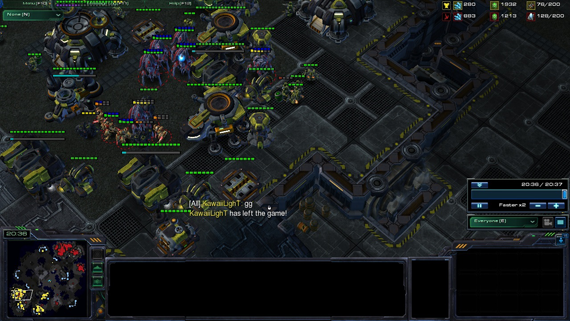 Fallacy Puts The Hurt On Clarity | Posted by: Ska on Oct. 4, 2012, 6:49 p.m.
In the opening match of the Under Rated Team League Fallacy defeated the heavy hitting, grand master heavy team of Clarity. Clarity is a newly formed team making their debut in several leagues boasting an impressive line up. Bacon opened it up with a win for Fallacy, followed by Legacy taking 2 top protoss players down in a row. Legacy's impressive macro terran vs protoss proved too much and put Fallacy up 2 games and in a position. Gwailo came out third and finished Clarity off.
Mercy taps out vs Legacy (click to enlarge):
Win Free coaching! | Posted by: Jank on June 26, 2012, 11:26 p.m.
Team Fallacy is proud to announce its first contest! On the line are three, FREE one hour coaching sessions with the high masters Zerg, Protoss and Terrran players of Team Fallacy. These will be made available to players of any level on the EU, NA, and KR Servers. As we are an American team we will need to do some scheduling to account for time differences. So what is the catch? It is very simple:
Like us on
Facebook
Follow us on
Twitter @TeamFallacy
We will be announcing the winners tomorrow evening on r/starcraft, Twitter and Facebook
MLG ANAHEIM | Posted by: Milotic on June 9, 2012, 1:11 a.m.
First day of Anaheim! Our player fLcEifeR who qualified for a paid trip to MLG Anaheim to play in the Blizzard World Championship Series and Open Brackets is having a really awesome run so far! He takes out TriMaster 2-1, CoLGoswser 2-1, and Quantic State 2-1, and manages to take 1 game off EGIdrA and EGJYP though he eventually falls to them 1-2. We're all excited to see the same amazing play from him tomorrow at MLG Anaheim!
Touney wins! | Posted by: Milotic on June 9, 2012, 12:36 a.m.
Nice job to Team fallacy for wrecking all the tournaments out there! ArtOfWar takes 2nd place at Battle n' Brew, going 1-2 against FGFuture! fLcEmyndri takes 2nd place in the New England SC2 League qualifiers, qualifying him for the New England SC2 League Finals next week June 17th Info here: http://www.youtube.com/watch?v=TWLdk-1GnE0&list=FLQnofuqz75NXV9Ey6FNCRLg&index=1&feature=plpp_video fLcEifeR defeats Hummingbird 2-0 and takes 1st place the The Legion Weekly tournament!
WOW fLcEifeR! | Posted by: Milotic on April 27, 2012, 2:45 a.m.
CONGRATS TO fLcEifeR/ Richard Gayler FOR WINNING THE BLIZZARD SC2 WORLD CHAMPIONSHIP QUALIFIERS, winning a full paid trip to MLG Anaheim! ? Stream here: http://www.twitch.tv/playhemtv/b/316266538 Info on tournament here: http://www.teamliquid.net/forum/viewmessage.php?topic_id=330949
Vote for Teslatrooper! | Posted by: Milotic on April 13, 2012, 5:37 a.m.
Our player TeslaTrooper has been nominated as the top 10 Terrans in CSl for the CSL All Star Invitationals. Whoooo! Vote for him! http://www.teamliquid.net/forum/viewmessage.php?topic_id=328468
Emy the Great! | Posted by: Milotic on April 8, 2012, 8:28 p.m.
Congrats to our player Emyndri for taking 2nd at the PAXest SC2 tourney (http://east.paxsite.com/) and winning $250 in prizes. WOW!